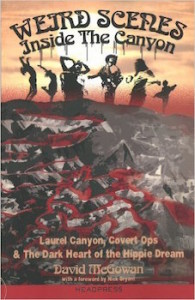 Laurel Canyon in the 1960s and early 1970s was a magical place where a dizzying array of musical artists congregated to create much of the music that provided the soundtrack to those turbulent times. But there was a dark side to that scene as well. Weird Scenes Inside the Canyon is the very strange, but nevertheless true story of the dark underbelly of a hippie utopia.
Paperback = $20 each, plus shipping


Hardcover = $50 each, plus shipping


Don't like to shop online? Contact alissa@centerforaninformedamerica.com to inquire about ordering by mail.
All donations and proceeds from book sales will be used to preserve and promote Dave's work. Thank you for your support! 

Note: Donations are not tax deductible.
"Digging into the paradox that is popular culture, the construction of reality and the marketing of dreams – this is the fertile compost heap of Dave McGowan. The inversion of idealism and the necromancy of normality. Tough stuff. Are you prepared to question your assumptions, to swallow the bitter pill?" 
– Amazon reviewer damian
"Bizarre and fascinating. Dave McGowan is some detective." 
– Amazon reviewer Jeff Hanna
"A truly important & amazing book which will forever alter your perception about American pop culture." 
– Amazon reviewer heather