No, this isn't actually a new installment of the Laurel Canyon series. It is, instead, an explanation of why there haven't been any new chapters posted in quite some time now. There are, I can assure you, a number of new chapters that have been written – one on Frank Zappa and a couple of his more colorful discoveries (Captain Beefheart and Larry "Wild Man" Fischer), one on Arthur Lee and his band Love, one on John Kay and his band Steppenwolf, and one on Brian Wilson and the Beach Boys. There are also a number of new additions to the Laurel Canyon Death List. And some supplemental material concerning the death of young Godo Paulekas.
There is also a new chapter that takes a look at the punk and new wave scene that, in the late 1970s, began replacing the sounds of Laurel Canyon on the radio dial. And a new epilogue that reveals that Charlie Manson wasn't the only serial killer/mass murderer with curious ties to the Laurel Canyon scene. And a new preface that aims to accomplish two things: explain to readers how and why I came to pen this saga, and preemptively respond to potential critics. Also added is a forward written by my esteemed colleague, Nick Bryant, author of The Franklin Scandal.
None of that, however, will be making an appearance on this website, or on any other website. Instead, it will be incorporated into – drum roll, please – a Laurel Canyon book! I have been, you see, quietly working for some time now with a publisher in the UK. And what we have put together is, I honestly believe, a vastly improved telling of the Laurel Canyon saga. In addition to all the new material that will be exclusive to the book, much of the previously posted material has been reorganized and extensively edited to improve the flow of this rather dark journey through what was supposed to be a hippie utopia. And both an index and a bibliography have been added to make this work a more valuable research tool.
The published version carries a different title: 
Weird Scenes Inside the Canyon: Laurel Canyon, Covert Ops & the Dark Heart of the Hippie Dream
. In the Table of Contents below, all chapters/sections that appear in red consist of all new, previously unposted material; those in orange have been supplemented with varying amounts of new material. Since late September, 
Weird Scenes
 has had its very own Facebook page at 
https://www.facebook.com/WeirdScenesInsideTheCanyon
, with additional information. If you stop by, please be sure to hit the 'like' button.
The book's official release date is April 4. I have begun taking pre-orders for signed copies here, for both paperback and hardcover editions. From that same page, you can also order signed copies of my previous book, Programmed to Kill.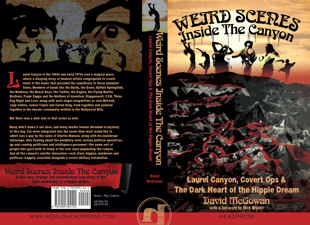 TABLE OF CONTENTS
Foreword by Nick Bryant
Preface
1 Village of the Damned By Way of an Introduction
2 Power to the People Call this a Counterculture?
3 Dig! The Laurel Canyon Death List
4 Related Lives and Relative Deaths
5 Desirable People The Canyon's Peculiar Past
6 Vito and his Freakers The Sinister Roots of Hippie Culture
7 The Death of Godo Paulekas Anger's Infant Lucifer
8 All the Young Turks Hollywood Tripping
9 Weird Scenes Inside the Canyon
10 Helter Skelter in a Summer Swelter The Return of the Death List
11 Detours Rustic Canyon & Greystone Park
12 Riders on the Storm The Doors
13 Eight Miles High and Falling Fast The Byrds
14 The Great Serendipity Buffalo Springfield
15 Beyond Buffalo Springfield (and the Monkees, too)
16 Altamont Pie Gram Parsons
17 The Lost Expedition of Gene Clark
18 The Wolf King of LA "Papa" John Phillips
19 Hungry Freaks, Daddy Frank Zappa
20 Born To Be Wild John Kay
21 A Whiter Shade of Pale Arthur Lee and Love
22 Endless Vibrations The Beach Boys
23 The Grim Game Houdini
24 Won't Get Fooled Again Punk and New Wave Arrive
Epilogue
Acknowledgements
Selected Bibliography & Filmography
Index
About the Author